Content Warning: Contains strong language and emotionally charged material around the topics of sexual assault, sexual violence, and suicidal ideation.
FRESH/SCOTTIE
Zhang Zhenglin (UC Davis)
Mantra Radhakrishnan (NU)
FRESH/CHAZ
Nicholas Gomersall (UC Davis)
Robbie Matthew (NU)
FRESH/MARIA
Kris Carlos (UC Davis)
Dani Goldberg (NU)
FRESH/ANNA
Anna Rita Moukarzel (UC Davis)
Mariana Leone (NU)
FRESH/COPS
Yolanda Fu (UC Davis)
Rachael Dec (NU)
ELDER FRESH/CHAZ
Olivia Caserta (UC Davis)
Autumn Thelander (NU)
YOUNG FRESH/CHAZ
Madeline Weissenberg (UC Davis)
Mia Cavener (NU)
Light Box Performer
Gabrielle Strong
Chorus
Katherine Compton
Myah Daniels
Leah Daugherty
Maria Delgadillo
Ahash Francis
Maddie Hughes
Jazzlyn Luckett
Zoe Maroko
Sarah Rothus
Katie Schwab
Brooklynn Solomon
Atim Udoffia
Jasmine Washington
Co-Director & Co-Producer
Margaret Kemp
Co-Director, Co-Choreographer, & Co-Producer
Roger Ellis
Playwright
Jacqueline Goldfinger
Composers
Richard Chowenhill, Kory Reeder, Bahar Royee, & Ramteen Sazegari (Amby Doosters)
Assistant Director and Co-Choreographer
Rebecca Blaich
Assistant Director and Stage Manager
Sarah Assaad
Digital Art Director
Jackie Fox
Light and Projection Artist
Gabrielle Strong
Sound Ecologist
Owen Marshall
Sound Engineer
Richard Chowenhill
Web Developer
Dan Wu
Graphic Designer
Jazzlyn K. Luckett
Video Editing
Matt Biondo, Margaret Kemp, Roger Ellis, Rebecca Blaich, Sarah Assaad, Gabrielle Strong, Jackie Fox
Cinematographers & Sound Artists
Kris Carlos, Olivia Caserta, Mia Cavener, Rachael Dec, Yolanda Fu, Dani Goldberg, Nicholas Gomersall, Mariana Leone, Robbie Matthew, Anna Rita Moukarzel, Mantra Radhakrishnan, Autumn Thelander, Madeline Weissenberg, Zhang Zhenglin
Vocal Director and Intimacy Coordinator
Adriano Cabral
Costume Supervisor
Meeka Postman
Makeup Supervisor
Ziare Paul-Emile
Northwestern Stage Manager
Mikaela Fenn
Dramaturgy Consultant
Maybe Burke
[re: CLICK] is presented under special arrangement with Jacqueline Goldfinger
"I love that we'll be the only generation with click envy,
As swipes and soundless keypads swallow the voice of the next generation.
They will be raised to
Whisper whisk
Whisper whisk
Whisper whisk
And I guess that the next generation after that will be raised in silence."
-Jacqueline Goldfinger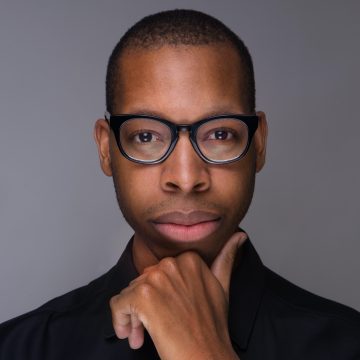 "Welcome to the platform–part time capsule, part art installation, part speculative fiction [re: CLICK] is an experiment in form and collaboration. During this era of raised global consciousness, we complicate the temporal and spatial stability of traditional ensemble. Our process transposes embodied explorations of Goldfinger's text into an app-based immersive experience. Thespis steps back into the chorus as each contributing artist amplifies each other's voices through their contributions to the work. What happens when we de-center the singular perspective and challenge the notion of 'universality' in the age of the algorithm?" – Roger Ellis
"Our creative inquiry was led by curiosity about 'what is my body in the internet'. We kept questioning the impact of the anonymous, weaponized, and often false voice of the digital chorus. Our cast(s) of digital natives is the first generation for whom the digital experience is more real than the 'flesh-based experience'. Our decision to present this material within the digital space invites the audience to experience this dichotomy." 
– Margaret Laurena Kemp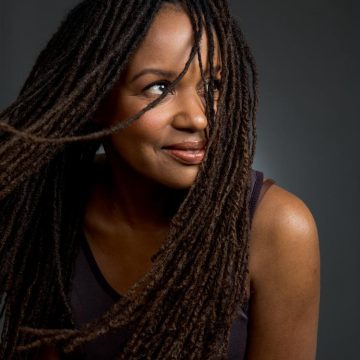 Cast Bios
Kris Carlos is a fourth-year physics and theater and dance double major at UC Davis. This is their first (hopefully not only) production at the university and they're excited to participate in a new form of theater.
Olivia Caserta is a third year at UC Davis. She has previously appeared in "The Threepenny Opera," "RANKED the Musical," and Studio 301's production of "The Addams Family." She can't wait for everyone to experience this one-of-a-kind show!
Mia Cavener is a senior at Northwestern majoring in theatre and political science. She is very grateful to all involved in "[re: CLICK]" for the wonderful experience. Please enjoy the show.
Rachael Dec is a second-year theatre major and dance minor at Northwestern University. She was most recently featured in the Wirtz's "Call and Response," and as Frank in the 2020 freshman musical "Catch Me If You Can." 'Much love and gratitude to my family, and to Kara, Kylie, and Clay!'
Yolanda Fu is a senior student double-majoring in design and psychology with a theatre and dance minor. She is very excited to be part of the journey of "[re: CLICK]" and hope you enjoy watching the show.
Dani Goldberg is a second-year theatre and computer science double major and dance minor at Northwestern. Past Northwestern roles include the Oversecretary in ImagineU's "The Emperor's New Clothes" and Witt in Waa-Mu's "State of the Art." They are very excited about exploring this new mode of performance. Enjoy the experience!
Nicholas Gomersall is a fourth-year transfer student at UC Davis. He is majoring in theatre and dance and hopes to have a career as an actor, and eventually transition to teaching high school theatre.
Mariana Leone is a third-year theatre and political science major and music theatre certificate student at Northwestern University. She has appeared in StuCo productions "Never Not Once," "JTE: Song Cycle 2020," and "Sweeney Todd." She is grateful to be a part of this joint Northwestern and UC Davis process!
Robbie Matthew is a first-year student at Northwestern studying theatre and is extremely excited for his very first college production! He has had an amazing time performing and learning alongside his fellow castmates and his directors. Recent high school credits include "Young Frankenstein" and "The Diary of Anne Frank." For Amanda.
Anna Rita E Moukarzel is in her final quarter at UC Davis as a mechanical engineer major and theater and dance minor. She has worked in "The Bluest Eye," "Dogfight," and "The Addams Family." She is grateful to be part of this wonderful cast and crew.
Mantra Radhakrishnan is a first-year theatre major at Northwestern University from Bangalore, India, who loves exploring through improvisation and collaborative devising while directing, acting, or writing. Her other interests lie in physical theatre, filmmaking, community engagement, and comedy, occasionally combining those in shows like "[re:CLICK]."
Autumn Thelander is a fourth-year theatre major at Northwestern University. She has appeared in "A Chorus Line," "For the Record," and "Machinal." She is thrilled to share this group's work with the world, and is so thankful for her family and friends who support her through it all!
Madeline Weissenberg is a first-year theater and dance major at UC Davis and is thrilled to be debuting in her first college production! She is honored to have been chosen to be a part of this incredible show and to have had the chance to work with so many talented people.
Zhang Zhenglin is a fourth-year plant sciences (crop production) major at UC Davis. He has previously appeared in Studio 301's Fall Revue: "New and Improved" and "AntigoneNOW." The making of a play about the internet through the internet means much to him and he thanks the team for making this bold journey, together.
American Music Theatre Project and the Virginia Wadsworth Wirtz Center for the Performing Arts
AMTP Producing Director | Brannon Bowers
AMTP Program Assistant | Denise McGillicuddy
Wirtz Managing Director | Al Heartley
Wirtz Associate Production Manager | Valerie Tu
Wirtz Marketing & Development Manager | Pete Brace
​Wirtz Lighting & Sound Supervisor | Peter Anderson
Wirtz Lighting & Sound Technician | Michael Trudeau
University of California at Davis Department of Theatre & Dance
Production Manager | Susie Owens
Master Electrician | Patrick O'Reilly
​Web Developers | Aaron Etcheverry & Carol McMasters-Stone
Facilities Manager & Audio Supervisor | Megan Kimura
​Assistant Technical Director | Myke Kunkel
Arts Marketing Specialist | Michael G. French
Graphic Designer ​ | Rudy Garibay
SPECIAL THANKS TO 
Horacio Acevedo, Maybe Burke. Anjalee Deshpande Hutchinson, Barbara Butts, Oona Hatton, Mary Overlie, Fay Simpson, Jessica Stokes, Anuj Vaidya, Kurt Rohde.
What is my body in the Internet?
What does post-traumatic growth look like in the digital age?
Who tells your story?