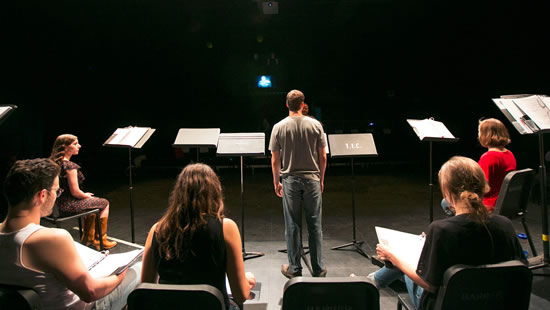 Our Vision
To be both a national and international leader in the development of new musical theatre by connecting groundbreaking shows, writers and artists with top tier students, faculty and staff.
Our Mission
The American Music Theatre Project (AMTP) at Northwestern University brings together the nation's leading artists in music theatre to work with Northwestern's faculty, staff and students. AMTP's goal is to nourish and invigorate American music theatre by developing and producing new musicals; increasing opportunities for education and training with Northwestern's theatre, music theatre and dance programs; and creating new connections between professional and academic communities.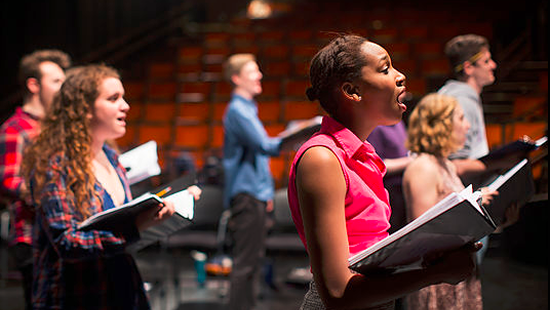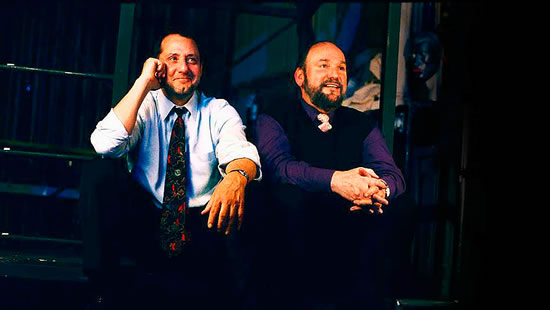 Our History
AMTP was founded by Dominic Missimi and Stuart Oken in May 2005 in Northwestern's School of Communication to bring together the nation's leading artists in music theatre to work in collaboration with Northwestern's faculty and students. Founded in 1851, Northwestern University is one of the country's leading private research and teaching universities. With its impressive infrastructure of facilities, faculty and students, and its progressive methods for teaching and learning, Northwestern welcomes artists and projects that benefit from a nurturing creative process and a means of introducing new work to the broader creative community.
Our Leadership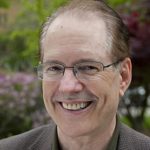 MR. DAVID H. BELL has served as Artistic Director of the Ford's Theatre in Washington, DC. and Associate Artistic Director to Kenny Leon at the Alliance Theatre in Atlanta, Georgia, and is currently the Artistic Director of the American Music Theatre Project and Director of the Music Theatre Program at Northwestern University. As director, choreographer, or author, David has received 45 of Chicago's Joseph Jefferson Award nominations (winning 11), 5 Carbonell nominations (Florida), as well as the Dramalogue Award (LA), the Helen Hayes Award (DC.), and numerous awards in Atlanta. His musical Hot Mikado (book, additional lyrics) was nominated for the Olivier award (London's West End). David has written and directed Cowboys and Lawyers (Goodspeed Opera House) and The Good War (Northlight Theatre), both with Craig Carnelia; Fanny Brice (Maltz Jupiter, Asolo Rep); Matador (Coconut Grove Playhouse); The Bowery Boys (Marriott Theatre); The Rules of Love (AMTP); Don't Stop the Carnival (Coconut Grove Playhouse); Hot Mikado (Ford's Theatre); A Christmas Carol (Pittsburgh CLO, Alliance Theatre); The Theatre of Dreams (Bridgewater Hall, Manchester, England); and Die Schone und das Biest (European Tour). He directed the world premieres of Murder for Two (Chicago Shakespeare Theatre), HERO (Marriott Theatre and Asolo Rep), Elmer Gantry (Ford's Theatre), Peggy Sue Got Married (Marriott Theatre), and many others. He has worked on original musicals with Cy Coleman, Dolly Parton, Jimmy Buffett, Herman Wouk, Joe Kinosian, Kellen Blair, Russell Baker, George Stiles, and Daniel Green. David collaborated with Northwestern University and the Royal Conservatoire of Scotland presenting  a pair of new musicals in 2017 titled ATLANTIC for the Edinburgh Festival and another pair in 2018 called LEGACY.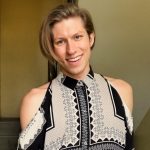 MX. BRANNON BOWERS (Producing Director)
joined the American Music Theatre Project in 2016. Prior to their time as Producing Director, Brannon worked at McCarter Theatre Center in Princeton, NJ,  under Artistic Director Emily Mann. While there, they coordinated readings of new works by Emily Mann, Christopher Durang, Ken Ludwig, Nilo Cruz, Heather Raffo, Dipika Guha, and Sharyn Rothstein. They also created, implemented, and oversaw the new community casting process of their reimagined
A Christmas Carol
(directed by Adam Immerwahr), casting 36 local community members in the production. Brannon has held internships in Chicago at Steppenwolf Theatre Company, Chicago Shakespeare Theater, Redmoon Theater, and is a proud graduate of Northwestern University with a degree in Theatre and Gender Studies and a certificate in Integrated Marketing Communications.