MARIE IN TOMORROW LAND
Book & Lyrics by Maggie-Kate Coleman
Music by Erato A. Kremmyda
Directed by Sam Pinkleton
Music Directed by Ryan T. Nelson
Developmental Reading | February 17 – 24, 2018
Mussetter-Struble Theater
1949 Campus Drive | Evanston, IL 60208
ABOUT THE SHOW
MARIE IN TOMORROW LAND is a musical collage in which Marie Curie journeys through the remains of a Chernobyl-inspired theme park and encounters much of America's troubled history with radioactivity along the way. Featuring a cast of women playing a kaleidoscope of Marie Curies, the piece explores the intersections between science and art, women and history, and kitsch and terror. By putting the story of Marie Curie and her work in dialogue with the American retro-futuristic experience of radiation, the piece explores the impact and aftermath of our radioactive existence.
MARIE IN TOMORROW LAND is supported by Rhinebeck Writers Retreat, Catwalk Institute, The Orchard Project, SPACE on Ryder Farm and The Civilians R&D Group.
THE WRITERS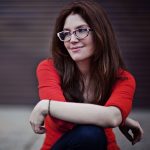 MAGGIE-KATE COLEMAN (Book & Lyrics) is a farm girl turned NYC-based playwright, bookwriter and lyricist. Recent work includes book and lyrics for "POP!" with music by Anna K. Jacobs (Yale Rep, Pittsburgh City Theatre, Studio Theatre DC) and "The Map of Lost Things" (Hangar Theatre, Ithaca) and lyrics for a new adaptation of "The Gift of the Magi" with Andrew Cooke and Jeffrey Hatcher (Arkansas Repertory Theatre). Coleman is a 2015 MacDowell Fellow. She earned an MFA in Musical Theater Writing from NYU.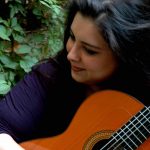 ERATO A. KREMMYDA (Music) is a NYC-based composer, born and raised in Athens, Greece. Recent work includes "IO" (International Filippi Festival, Greece), "Riot Antigone" (La Mama, Ars Nova), "Red Wednesday" (BRIC Arts Center), and "Young Lear" (Teatro Duo, Rome). Erato has been a guest composer at Yale and Columbia, is a Fulbright Fellow and an Anna Sosenko Trust grant recipient. Her compositions have been heard at Megaron-Athens, Joe's Pub, Ars Nova, NYMF, BRIC, HERE and Irondale. She holds an MFA in Musical Theater Writing and a Masters in Music in Film Scoring from NYU.
As a writing team, Coleman and Kremmyda are the recipients of the 2017 Jonathan Larson Grant. Their recent work together includes "Worth of Women" (Carnegie Hall/Kairos Italy Theater), "The Way They Live" (The Met/The Civilians), "Hotel Mediteranee" (Wild Project/Between the Seas Festival) and "Field Trip: A Climate Cabaret" (Superhero Clubhouse, NYC).
THE DIRECTOR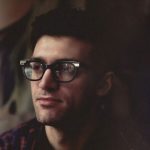 SAM PINKLETON (Director) is a New York City-based director and choreographer. As a choreographer, his work on Broadway includes "Natasha, Pierre, and the Great Comet of 1812" (Tony nomination); "Significant Other," "Amélie," "Machinal" and "Heisenberg." He is artistic associate for New York City Center Encores Off-Center, where he directed "Runaways." He has created work for Roundabout Theatre Company, Manhattan Theatre Club, Berkeley Rep, Center Theatre Group, Soho Rep, Playwrights Horizons, Actors Theatre of Louisville, American Repertory Theatre, Theatre for a New Audience, Kansas City Rep, McCarter Theatre and Theatreworks USA. Pinkleton is a frequent collaborator with Pig Iron Theatre Company, The Civilians and The Dance Cartel. Current projects include David Henry Hwang and Jeanine Tesori's "Soft Power" and the new synth-pop musical "Burn All Night."