GET OUT ALIVE
Written & Performed by Nikki Lynette
Directed by Roger Ellis
Associate Directed by Rebecca Blaich
Co-produced by Ira Antelis
Workshop: April 22 – May 4, 2019
FREE Reading Presentations
Friday, May 3 at 7:30pm
Saturday, May 4 at 2:00pm & 7:30pm
All presentations held at the
Mussetter-Struble Theater
Virginia Wadsworth Wirtz Center for the Performing Arts
1949 Campus Drive | Evanston, IL 60208
ABOUT THE SHOW
"Get Out Alive" is a new autobiographical musical by independent artist Nikki Lynette. Collaborating with Northwestern music theatre professor and director Roger Ellis, AMTP will work to develop this edgy one-woman musical into a multimedia theatrical event. Using storytelling, song, movement, visual media and a live DJ, Nikki's offbeat approach to sharing her personal mental health journey shows that even when life leads us to a bad place, we can always make it out alive.
THE ARTIST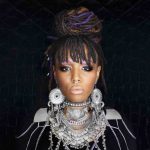 NIKKI LYNETTE is a performer, writer, and visual artist whose style is equal parts hip hop, alternative, and pop. A Chicago native, her profound sense of individuality has been the cornerstone of her career an as indie artist. Her self-produced tunes have been featured in popular shows on MTV, Fox, Hulu, Netflix, and more and have garnered digital and print features for publications like XXL, Bust, and Vibe. A proud independent artist, Lynette's success in music licensing has earned it's own accolades, including a prominent feature in Billboard Magazine and being invited to speak on a panel at South By Southwest. After a hiatus from releasing new music at the height of her career, Nikki Lynette returned to the public eye with a confession: she'd secretly been battling mental health issues. She began writing articles about depression and suicide for prominent sites like BlackDoctor, Afropunk and AllHipHop, and held her own among medical professionals in live chats and panel discussions with hundreds of thousands of viewers. Nikki's most recent musical release, Manic Pixie Dream Girl, is the first in a three part body of work that includes music, visual art, and a short film detailing the experience of being driven to a dark place and finding your way back from it. The release dates for the next two installments in the series, Chronicles of a Crazy "B!+ ¢#" and The Suicide Bridge have not yet been set. Her mental health documentary Happy Songs About Unhappy Things is expected to be finished in Spring of 2019.
THE DIRECTOR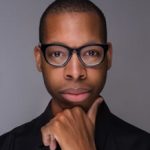 ROGER ELLIS is a director/choreographer and dramaturge whose work centers on physically driven, inclusive, and transformational theatrical experiences. As a director, Roger focuses on the development of new work and the bold reimagining of established performance texts. He has worked across the United States with companies such as Sacramento Music Circus, Paramount Theatre, Lyric Theatre of Oklahoma, Pace University, Marymount Manhattan College, Tuacahn Center for the Arts, San Diego Repertory, and Gallery Players Brooklyn. His directing credits include Parade, A Little Night Music, The Wild Party (LaChiusa/Wolfe), The Light in the Piazza (Associate Director/ Movement Coach), A Year With Frog and Toad, Maverick (Associate Director/Choreographer), and the NYC premiere of Laura Pittenger's Thou Shalt Not. He holds a Master of Fine Arts degree in Musical Theatre from San Diego State University and is a proud member of Actors' Equity Association and the Stage Directors and Choreographers Society (Associate).