EDDIE THE MARVELOUS,
who will save the world
Written by The Kilbanes

Developmental Workshop:  May 1 – 24, 2024
Workshop Presentations:
Thursday, May 16 at 7:30pm
Wednesday, May 22 at 7:30pm
Thursday, May 23 at 7:30pm
Friday, May 24 at 7:30pm
All presentations will be held at the
Wirtz Theater in Chicago (710 N Lake Shore Drive)
TICKET PRICES
General Public – $10
Students (in advance) – $8
ABOUT THE SHOW
Eddie's life is going nowhere: a twenty-something, jobless high school dropout who lives with his mom and suffers from crippling social anxiety. To cope, he retreats into his imagination and envisions himself as the charismatic front man of a glam-rock band, just like his idol, David Bowie. But when Eddie's mom tells him that her boyfriend is moving in, she threatens the one place in the world where he feels safe. The two plots — Eddie's actual life as a hermit and his imagined life as a rock star — first unfold in parallel and then merge as Eddie confronts the fact that his life must change.  
THE WRITERS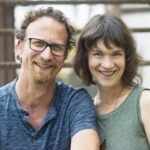 The Kilbanes are Kate Kilbane and Dan Moses, a married musical theater writing and performing team. Their rock musical Weightless (WP Theater, ACT, Public Theater's Under the Radar, Z Space SF) was nominated for a Lucille Lortel award (Best Musical) and a Drama Desk award (Best Music) in 2023. Other works include The Code (ACT), My Antonia (Next Generation Commission, Latte Da Theater in Minneapolis, with Jessie Austrian and Noah Brody of Fiasco Theater – upcoming),  As You Like It (San Francisco Shakespeare Festival), and Eddie the Marvelous Who Will Save the World (O'Neill National Music Theater Conference).