COWBOY BOB
Co-Created by Molly Beach Murphy, Jeanna Phillips and Annie Tippe
Music & Lyrics by Jeanna Phillips
Book & Additional Lyrics by Molly Beach Murphy
Additional Music & Music Direction by Alex Thraikill
Directed by Annie Tippe
By special arrangement with SallyCade Holmes & David Denson (Red Tail Entertainment)
Developmental Workshop: July 11 – 23, 2022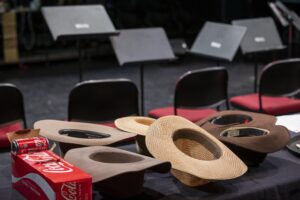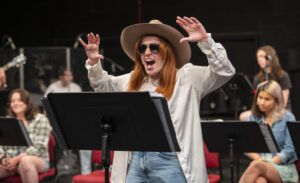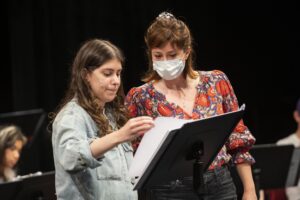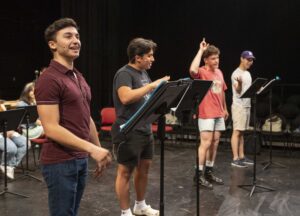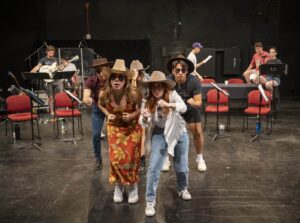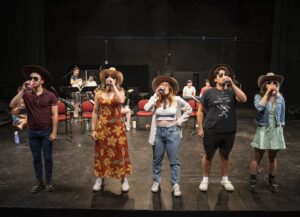 ABOUT THE SHOW
You wouldn't look twice at Peggy Jo. She's a good daughter, always tips, plays by the rules. But when she dons a fake beard, sunglasses and a ten-gallon hat, she becomes "Cowboy Bob"–the slickest bank robber Texas has ever known. And she may just be the life-affirming inspiration one waitress in a Dallas Chili's badly needs to buck routine and take control of her own life. Equal parts Riot Grrrl rage and Texas twang, this world-premiere musical loosely inspired by actual events invites audiences to join the heist, take life by the reins, and let it ride.
THE CREATORS
Molly Beach Murphy's plays include: The Air Got Thick; IKE; Big Ben in the Red Dirt Desert. With core collaborators Annie Tippe + Jeanna Phillips, Molly co-creates experimental musicals such as Cowboy Bob, with two new pieces in early development. Molly's work has been developed with New York Theatre Workshop, New York Stage & Film, Williamstown Theatre Festival, Ars Nova, the Alley Theatre, Page 73, The Civilians' R&D Group, The Orchard Project, Ucross Foundation, Rockefeller Brothers' Fund, Yale Institute for Music Theatre, Village Theatre Festival of New Musicals, Pipeline Theatre Company. Page 73 Playwriting Fellowship Semi-finalist; Drama League Beatrice Terry Resident; New Georges Affiliated Artist. Published works in Vol. 1 Brooklyn, The Hairpin, Santa Ana River Review and American Theatre Magazine.
Jeanna Phillips makes and performs music and theatre for people of all ages. Her work has been supported by the NAMT 2020 Festival of New Musicals, The Village Theatre, New York Stage and Film, Ars Nova, Polyphone Festival, among others. Music for theatre: what's this called, this spirit? (Ars Nova, Dixon Place); Cooking to me is Poetry with New Saloon (Galapagos Art Space); POE. (The Morgan Library). She's currently in residence with nicHi Douglas at Atlantic for Kids/Atlantic Theatre Company developing The Last Grove, a piece for young audiences about trees. She makes original music for kids with Alex Thrailkill as Little Bandits, and you can hear more of her music for young folks on the Story Pirates Podcast. Alumna: New Victory Labworks, Fresh Ground Pepper PGPG, The Civilians R&D Group, Yale Institute of Music Theatre. BFA NYU Experimental Theatre Wing. Currently an M.A. candidate at the City University of New York's Masters of the Arts in Applied Theatre.
Annie Tippe is a director and creator of new work, film and music theater. Recent: Premiere of Dave Malloy's Octet at the Signature Theatre (Lortel Award for Best Direction, SDC Callaway Award Finalist) and Ghost Quartet (Premiere, The Bushwick Starr, etc…), Leslye Headland's Cult of Love (Premiere, IAMA Theatre Company), Bess Wohl's Continuity (Goodman Theatre), Molly Beach Murphy + Jeanna Phillips' Cowboy Bob (Village Theatre; New York Stage and Film), James + Jerome's INK (w. Rachel Chavkin, Under the Radar/Met Museum) and The Conversationalists (Bushwick Starr). Former Ars Nova Director-in-Residence, Drama League Directing Fellow, Williamstown Directing Corps.
Alex Thrailkill is a music director, arranger, and composer for new work. As MD: Cowboy Bob (Village Theatre, New York Stage And Film, Yale Institute for Music Theatre, Ars Nova); Another Rose (Virgin Voyages); Guys + Dolls (UArts, arr. Ada Westfall); Spring Street Social Society's Secret Supper: The Musical (co-composed with Jeanna Phillips) and Mermaiden: Or, The Monagamy; Salty Brine's Record Collection cabaret series (Joe's Pub). New Victory LabWorks Artist '19-'20, Fresh Ground Pepper PlayGround PlayGroup Artist '19-'20.
THE CAST & TEAM
Natalie Daninhirsch as PEGGY JO TALLAS
Sophie Nassiri Morvillo as RENA
Claire Guthrie as JERRY
Sunnie Eraso as TANYA
Wes D'Alelio as BILL
Anne-Sophie Lacombe Garcia as KATHY
Eddie Wang as COP ROY
Theodore (Theo) Gyra as COP BILLY
Daniel Calderon as STAN
Kaitlyn Fields as SWING/UNDERSTUDY
Jordan Affeldt, STAGE MANAGER
Eric Powers, MUSIC ASSISTANT
Christian Moreno, MUSICIAN
Edward Maday, MUSICIAN
Susanna McCollum, SOUND ENGINEER
Lucas Hansa, A2