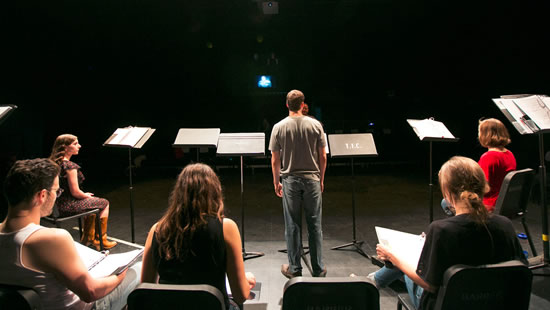 Our Vision
To be both a national and international leader in the development of new musical theatre by connecting groundbreaking shows, writers and artists with top tier students, faculty and staff.
Our Mission
The American Music Theatre Project (AMTP) at Northwestern University brings together the nation's leading artists in music theatre to work with Northwestern's faculty, staff and students. AMTP's goal is to nourish and invigorate American music theatre by developing and producing new musicals; increasing opportunities for education and training with Northwestern's theatre, music theatre and dance programs; and creating new connections between professional and academic communities.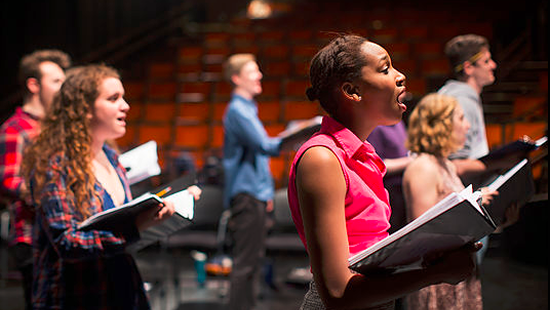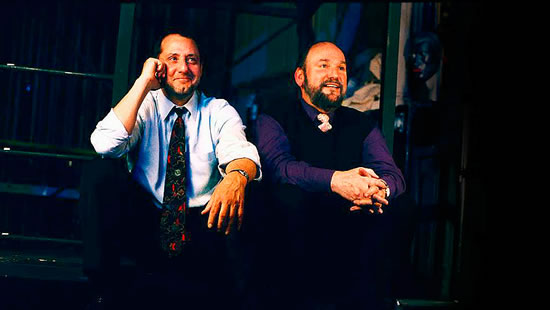 Our History
AMTP was founded by Dominic Missimi and Stuart Oken in May 2005 in Northwestern's School of Communication to bring together the nation's leading artists in music theatre to work in collaboration with Northwestern's faculty and students. Founded in 1851, Northwestern University is one of the country's leading private research and teaching universities. With its impressive infrastructure of facilities, faculty and students, and its progressive methods for teaching and learning, Northwestern welcomes artists and projects that benefit from a nurturing creative process and a means of introducing new work to the broader creative community. AMTP Founders Dominic Missimi and Stuart Oken
Our Leadership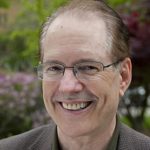 DAVID H. BELL (Artistic Director) is a professor and Director of the music theatre certificate program and Artistic Director of the American Music Theatre Project at Northwestern University. He has worked all over the world as a director, choreographer and author. His work has received 43 Joseph Jefferson Award nominations, for which he has won 11; the Dramalogue Award (L.A.); the Helen Hayes Award (Washington, D.C.); five Carbonall Award nominations (Florida); a Laurence Olivier Award Nomination (London); seven Atlanta Journal and Constitution Awards; the Atlanta Circle of Dramatic Critics Award; and three National Endowment writing grants. He has served as Artistic Director for the historic Ford's Theatre in Washington, D.C., and as Associate Artistic Director for Atlanta's Tony Award-winning Alliance Theatre. He has had more than 40 new plays and musicals produced internationally, including the Laurence Olivier-nominated musical HOT MIKADO. He has collaborated on world premiere musicals with Craig Carnelia, Cy Coleman, Russell Baker, Jimmy Buffett, Herman Wouk, David Crane and Marta Kauffman, Bob Gaudio, Henry Marsh, Barry Mason, Jim Stafford, Eddie Seago and Mike Leander, among many others. He directed and coauthored KNUTE ROCKNE: ALL-AMERICAN at The Theatre at the Center and his adaptation of THE BOYS FROM SYRACUSE played at the Drury Lane Oakbrook, for which he was nominated for three Jefferson awards. He recently directed his musical THE BOWERY BOYS at the Marriott Theatre in Lincolnshire, and he directed and choreographed ONCE ON THIS ISLAND at Marriott and HOT MIKADO at Drury Lane. For the Theatre and Interpretation Center, Bell has directed the last three Waa-Mu productions, FLYING HOME, OFF THE MAP and WHAT'S NEXT? and A MIDSUMMER NIGHT'S DREAM. Last summer, he directed his own FANNY BRICE musical at Florida's Asolo Theatre; wrote a program of musicals to accompany the AIDS MEMORIAL QUILT to Washington D.C.; directed HAMLET at Notre Dame Shakespeare Festival and a World Premiere of HERO at the Marriott Theatre (currently optioned for Broadway); and wrote THE FORTY RULES OF LOVE in Istanbul with Turkish rock star Demir Demirkan. Currently, he is writing SHAKIN' THE RAFTERS for Kenny Leon's TRUE COLORS THEATRE in Atlanta.