THE GIRL WHO
By Scott Gilmour & Claire McKenzie
Music Directed by Nick Graffagna
Residency: February 4 – March 16, 2019
Workshop: March 4 – 16, 2019
FREE Reading Presentations
Friday, March 15 at 7:30pm
Saturday, March 16 at 2:00pm & 7:30pm
Mussetter-Struble Theater
Virginia Wadsworth Wirtz Center for the Performing Arts
1949 Campus Drive | Evanston, IL 60208
Check out our Facebook page
 

for more photos from THE GIRL WHO!
ABOUT THE SHOW
Anna is searching for her parents. Audiences will decide how she finds them. THE GIRL WHO is a multi-path musical that places the audience in complete control of the story. Based on the iconic "choose-your-own-adventure" series, your choices determine Anna's decisions, morals, successes and failures — affecting not just which path she takes, but how she does so. With 171 possible versions, the audience determines the songs they hear, the characters they meet and the worlds they visit, allowing every show to be unique and every audience to question, "What if I'd chosen differently?"
THE WRITERS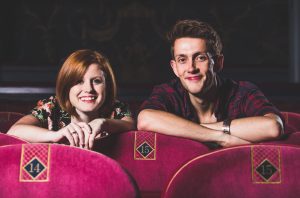 SCOTT GILMOUR & CLAIRE MCKENZIE  make up Noisemaker, the award-winning writing partnership. Both graduates of the Royal Conservatoire of Scotland, the pair work throughout the United Kingdom and internationally creating innovative, original work to challenge the expectations of musical theater. Noisemaker credits include My Left/Right Foot, a National Theatre of Scotland and Birds of Paradise co-production (Fringe First Winner and Herald Angel Winner 2018), Songs from the Seven Hills at the Sheffield Crucible, Ceilidh at Noise Opera, Glasgow (2018 European Championships), Atlantic at Edinburgh Festival Fringe, AMTP and Royal Conservatoire of Scotland co-production (Herald Angel Award Winner 2017), Little Red and the Wolf at Dundee Rep Theatre (Nominated for U.K. Theatre Awards and Critics' Awards for Theatre in Scotland 2016), The Lion, The Witch and the Wardrobe at Royal Lyceum, Edinburgh, Forest Boy at New York Music Theatre Festival, The Other Palace, London and Edinburgh Fringe (S and S Award and New York Musical Festival 2016 Publishing Award) and Freakshow at The Roundhouse and The Arches (Scottish Daily Mail Drama Award 2012).